---
Search Our Site
---
What is the MARC ?
Since 1927, the Massillon Amateur Radio Club has been a diverse radio hobbyist club that is currently over 80 members strong. Active within our community as well as an ARRL Special Service Club, we are actively involved in many facets of Amateur Radio, including Public Service, Membership, Field Day, Repeaters, Amateur Television (ATV), Skywarn plus many other interests. Learn More....
---
Modern Day Amateur Radio
---
March Club Program by K8MFO
(Mar 9, 2014) - - The club program for the March meeting was presented by Don Karvonen, K8MFO, who is one of the many ARRL volunteers who handles the letter "G" for the incoming QSL Bureau. Don's presentation was very informative covering what the ARRL Bureau is as well how amateurs can make use of it's services.
Don also entertained the group with some fun history facts from the early days of the club. Our many thanks to Don for a great program and we hope he will stop by for a visit again in the future.
If you missed the program, complete details of the Bureau and it's inner workings are available on the ARRL Great-Lakes website at http://arrl-greatlakes.org. Click on the 8th QSL Bureau link.
---
ARRL Supports Ohio Amateur
(Mar 2, 2014) - - The ARRL plans to file a "friend of the court" or amicus curiae brief on behalf of an Ohio radio amateur who has been at loggerheads with his community since 2009 in efforts to erect a modest antenna support structure. The Village of Swanton, Ohio, turned down the application of ARRL Life Member Gary Wodtke, WW8N, for an antenna variance to put up a 60 foot tower. Wodtke appealed, however, and in January the Fulton County Common Pleas Court issued a final judgment in his favor, ruling that federal and state law preempted Swanton's antenna ordinance.
Now, Swanton is appealing that order to the Ohio Sixth District Court of Appeals, asserting, in part, that Ohio's PRB-1 antenna law is unconstitutional, because it conflicts with the state's "Home Rule" statute, which gives communities broad and preemptive regulatory powers. Like the federal law, Ohio's PRB-1 statute calls on towns to "reasonably accommodate amateur station communications and shall constitute the minimum practicable regulation necessary." Ohio Section State Government Liaison Nick Pittner, K8NAP, believes the state appeals court's decision in Wodtke v. Village of Swanton could set legal precedent for similar antenna-related cases down the road. An attorney, Pittner was instrumental in getting Ohio's PRB-1 law enacted.
"Appellate decisions are generally final, unless further review is granted by the Ohio Supreme Court," Pittner said in a statement. "While a court of appeals decision represents the law only in that appellate district, it carries significant precedential value in other Ohio courts and may also be cited in similar cases in other states." In addition to the state's antenna regulation pre-emption law, the application and authority of the federal PRB-1 statute, embraced in Section 97.15(b) of the FCC's Amateur Service rules, will be at issue in the appeal. This case will mark the first time a state PRB-1 law has been challenged in an appeal.
Assisting in the case is telecommunications attorney and antenna rights advocate and expert Fred Hopengarten, K1VR, the author of Antenna Zoning for the Radio Amateur, published by the ARRL and now in its second edition. The Village of Swanton's ordinance established a fixed antenna height of 20 feet above the residential roofline. Wodtke wants to install a 60 foot antenna support structure on his 0.2 acre residential lot; the village allows greater height where the lot is at least 5 acres. While the appeal is pending, both parties have agreed that Wodtke be permitted to install a 40 foot antenna support structure, which complies with Swanton's current ordinance.
Annual Radio License Class Info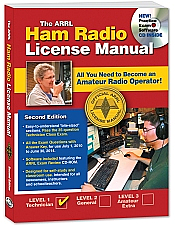 (Feb 15, 2014) - - The MARC will sponsor our annual Technician Class license course that will start on Monday, March 10, 2014. Class will begin at 7:00 PM and will be held at the MARC Club at the Senior Center. Classes will run for approx 8 weeks.
The only cost for the class will be for the Technician Class study guide from the ARRL. The manual is $25.00 when ordered directly from the ARRL. If you order it from the club the first night of the classes, the cost will only be $20.00 and will include a Question & answer computer CD.
Please contact Gary Kline, WC8W at (330) 837-2927 or by email at wc8w@sssnet.com if you are interested in taking this class.
In addition we also are running a code class that began on Friday, February 14th also at the Massillon Senior Center. The intent of the class will be to increase your proficiency from 5 wpm up to a speed that allows comfortable conversation. There is no cost to take this training.
The code classes will run each Friday evening for up to 10 weeks. Contact Perry, W8AU if you are interested in this class. He can be reached at phone (330) 705-8449 or by email to w8au@sssnet.com.
---
Skywarn Spotter Training
(Feb 22, 2014) - - The Stark County EMA and the Stark County Amateur Radio Emergency Service has scheduled annual Skywarn Spotter Training. It has been set for Tuesday, March 11th starting at 6:00 PM and will again be held at Stark State College of Technology, 6200 Frank Avenue NW, N. Canton, OH 44720.
This years training is being provided by Gary Garnett, Warning Coordination Meteorologist of the Cleveland National Weather Service.
The training seminar which covers the science of severe weather teaches spotters to observe cloud formations and the signs that severe weather is approaching. The course also covers spotter safety and how to report weather to the NWS. This years training included new material covering a recap of last years severe weather. All are welcome and encouraged to attend including Amateur Radio Operators, Public Safety forces, Hospital and area school staff. We also encourage the general public to attend.
The training is in conjunction with Ohio Severe Weather Awarness Week which is March 2nd to 8th. The Annual Statewide Tornado Drill will be held on Wednesday, March 5th at 9:50 AM.
Additional details and information is available from the Stark Co EMA office at (330) 451 - 3900 or Terry Russ, Emergency Coordinator of the Stark Co ARES at (330) 837 - 3091 or email to truss@sssnet.com.
---
Fun Award Presentation
(Feb 9, 2014) - -At the February meeting club President Ralph, K8HSQ presented the Massillon ARC "Old Buzzard Award" to Russ McMahen, N8PII for his knack for timing out the club 147.18 Repeater during many late night nocturnal long winded QSO's ! Congratulations Russ on this good natured FUN Award !
President Ralph presents the "Old Buzzard" Award to Russ, N8PII (R).
---
Annual Awards Banquet Recap
(Jan 20, 2014) - - The Massillon Amateur Radio Club's Annual Awards Banquet was held on Saturday, January 11th at the Massillon Senior Center, the home of the MARC with nearly 60 members and guests attending, our largest gathering in many years. It was a great event with great fun, great food and the presentation of many well deserved service awards.
A full recap of the evenings event including pictures of this years award recipients is covered on our Banquet Page. Make sure you have a look ! Special thanks to Charlie, KB8STV for all the fine pictures !.
---
Annual Club Dues Notice
(Dec 9, 2013) - - Beginning in January, 2014 the club begins a new fiscal year which means that members annual club dues are again due.
Cost per each member is $15.00 for full membership. XYL's and each licensed child who wishes to be a member is $7.50.
Dues should be sent to Treasurer Gary Kline, WC8W and can be paid anytime. Dues will also be taken at our annual Awards Banquet in January. The current roster will be held until March 1st at which time a new roster will be completed.
Don't forget, we don't want to lose a single member !
---
Annual Massillon Hamfest Notes
(Nov 12, 2013) - - The 53rd Annual Massillon ARC Hamfest and Auction is past and we would like to report another successful club event.
Attendance remained strong with nearly full table rentals. Reports from our vendors were mostly positive and everyone seemed to have a good time. That sounds like a formula for a great time ! The Auction was well attended but it was reported we could have used more "stuff" to auction off !
We would like to thank the many club members who came through and volunteered their time, they all helped make this years event a solid success.
ARRL Assistant Section Manager Scott Yonally, N8SY also attended and gave us a very favorable report on this years event. Scott also came armed with his trusty camera and took lots of pictures. They have already been posted on the Ohio Section Website. Click Here to check them out !
---
Massillon Holiday Parade
UPDATED (Nov 26, 2013) - - The club just finished assisting with the 59th Annual Massillon Holiday Parade sponsored by Massillon Main Street and the Downtown Massillon Association. This continues to remain the oldest public service event that is handled by the club and our responsibilities have grown over recent years to include many aspects of parade operation. The parade was rebroadcast over Massillon Cable TV and I hope some of you had a chance to view it. The club trailer looked great on the route with our new decorations and special thanks to Jim Farriss - WA8GXM for pulling the trailer in the parade.
In the early years of the parade, we provided only communications support to the Massillon JC's organization who handled the staging of all the parade units. When they disbanded, the city struggled to find volunteers willing to take on this task. Since the MARC handled communications support, somehow we got nominated to take on this responsibility as well.
A few years later, Massillon Cable began filming the parade in conjunction with the Massillon High School Communications Department and again the club was called upon to assist with this part of the parade also. Last minute omissions or changes to the parade line up are passed on to the production crew so that the announcers can follow along with the parade units. We had experience with this as well as amateurs routinely handle staging activities including TV production control relay duties at the Hall of Fame Festival Community Parade. The Holiday Parade has depended on this ever since.
Over the past several years the parade has been sponsored by the Downtown Merchants Association with President Donald Harwig serving as Parade Chairman. During this time and before the club has always been there to make sure the parade is properly staged and starts on time down the parade route. We have become an integral part of the parade and I wonder if they could pull it off without us.
I'm glad to report another successful public service event with very few problems thanks to our communications and parade skills. Over 46 years and counting Santa has arrived in the city in no small part thanks to the MARC.
Parade Chairman Don Harwig and Communications Coordinator Perry Ballinger, W8AU express their appreciation to the MARC for their continued support of this annual holiday parade. The following club members assisted with this years event.
Perry Ballinger - W8AU, Bud Harvey - WA8KWD, Steve Hall - KD8ACF, Igor Nikishin - K8INN, Bill Maurer - KD8LCS, Don Wade - W8DEA, Dan Anastis - N8DZM, Wade Huthmacher - WD8MIU, Bill Treacle - KD8TKX, Gary Kline - WC8W, Jim Farriss - WA8GXM, Dale Storey - KB8LWP, Tom Gill - KC8QOD, Anne Ballinger - N8GAF, Joe Herrick - WD8BGW, Robin Markland - N8EBS, Russ McMahen - N8PII and Terry Russ - N8ATZ. This event provided 72 hours of community service.
---
October Program Summary
(Oct 4, 2013) - - Special thanks to Wade - WD8MIU, Jim - WA8GXM, and Byron - KF8UN for the nice recap from the Kelley's Island Expedition.
They reported fine weather and reasonable band conditions during their day of operating. Contacts were reasonable and they all had a fine time.
Thanks to the team for this club outing and for the pictures !
Wade, WD8MIU at the controls !
Wade's Portable Equipment Rack
Team Member Brooker, KD8JNX at the station
---
Repeater Status Update
(Oct 5, 2013) - - At the October club meeting it was decided that the club 147.18 Mhz Repeater operation status would be changed from a generally open system to PL Status.
This means that a PL Tone of 110.9 Hz will be required to access the repeater.
While we are still experiencing some receiver problems at the site, seasonal atmospheric conditions are causing the receiver to open easily creating open squelch noise.
Until all receiver repairs are completed and when band conditions ease, the PL tone will remain in place.
All club members and general users of the repeater are still welcome to use the repeater anytime, it is not the intention of the club to restrict it's use !
Thanks for your understanding as we try to make the repeater suitable for all users.
The club also thanks the following members for lending their time to upgrade the club's repeater site. Maintenance at the site was overdue and with good weather running out, club President Mike, WA8MKH organized a work detail to complete this project.
Weeds had nearly overgrown the site and the building was in need of painting. This was completed with minimal cost to the club. Special Thanks to the following team, Mike - WA8MHK, Carol - KB8IMH, Ralph - K8HSQ and Tony - KD8UXK.
The completed project. Weeds removed, building and fence painted.
The main entry into the Site.
---
September Club Program
(UPDATED Sept 7th) (Aug 25, 2013) -- The program for the September club meeting will be a kit or homebrew equipment "Show & Tell" night.
We originally planned some sort of a Show Us Your Heathkit Night but it was decided to open it up to any equipment you built, bought or just would like to show off to the club.
I still own several Heathkit products nearly all of which are still operational. I plan on bringing along a few of them to the meeting. I hope some of you will also share some piece of your favorite equipment to share with us. The plan will be to give everyone 10 minutes or so to show off their rig and give us a short report on it. Radio's, Antenna's, whatever you want to bring along will be appreciated. Let's see what shows up !
UPDATE.... We had a nice crowd for our September meeting including several members who brought along their Heathkits, Radio's and homebuilt antenna's to show off to the members. Lots of great old Heathkit memories and stories were swapped and everyone enjoyed looking and hearing the vintage radios and test equipment.
Thanks to everyone who brought our equipment for our Show & Tell Night at the club. Sounded like we will be doing this again in the future !
Heathkits galor filled several tables at the club meeting with everyone enjoying discussing their favorite kit building experience.
---
Field Day Wrap Up
(UPDATED FOR SEPTEMBER) (Sept 2, 2013) - - Field Day 2013 is over for another year and based on contacts, attendance and FUN this was one of our most successful club events ever in recent years. Yes, it wasn't without some equipment issues that we need to correct before next years event, but all in all we heard lots of great comments from those who joined us this year !
Our goal was reached as lots of folks got to operate again this year, we also covered some technical training and of course, the mighty Field Day Feast on Saturday night.
A very big THANK YOU to all the folks who did a terrific job preparing our dinner. Especially to Stephanie, KD8RDN who handled grill duties. Additional thanks to everyone who brought additional side dishes including lost of desserts to complete a great dinner on Saturday night. Another great club function by a great club !
Club photographer Ralph, K8HSQ did another great job capturing this years event on film. Click Here to have a look at this years pictures.
(Sept 2, 2013)
Here's our report for this years Field Day score...
CW QSO's - 471 for 942 points
Phone QSO's - 434 for 434 points

We earned 820 Bonus Points.
The total submitted score was: 3,572 points !
---
July Club Events
(July 22, 2013) - - It was a busy weekend for the club as we participated in several public demonstrations that included a small fundraiser.
On Friday, July 19th we participated once again in the annual William McKinley Museum Summer Science Splash. The club's Emergency Communication Trailer was on display with several stations setup and running over the entire event. An information table also greeted visitors as we demonstrated our hobby to the numerous visitors who were attracted to our trailer thanks to the vertical mast nearly fully extended with the American Flag at the top. It was another great event with lots of people interested in our activities. Event director Lynette Reiner was again grateful for our support of this event over the last three years.
Jim - WA8GXM (L) and Gary - WC8W ran our Friday night net from the trailer while Jim operated on 6 meter AM.
A small information center greeted visitors
The McKinley Monument was our backdrop as the trailer greeted visitors to the event
Special thanks to the following club members who staffed the display or dropped by to lend support. They were, Tony - KD8UXK, Terry - N8ATZ, Ralph - K8HSQ, Jim - WA8GXM, Gary - WC8W, Mike - WA8MKH, Wade - WD8MIU, Ann - N8GAF and Perry - W8AU.
***********************************
Then on Saturday, we again setup and displayed at the Jackson Belden Buehler's Food Market. This was also a small fundraiser for the club as we grilled hot dogs during the afternoon. A dreary morning turned into a great afternoon as our display was well attended with a few visitors stopping by to have a look at the Communications Trailer.
The Crew hard at work at the grill !
Plenty of Supervisors !
Ready for all the customers !
The Trailer also had a few visitors
Again we were lucky to have many club members who assisted and visited the Buehler's Fund Raiser. They were, Wade - WD8MIU, Steve - KD8ACF, Terry - N8ATZ, Jim - WA8GXM, Mike - WA8MKH, Carol - KB8IMH, Stephen - KC8IDJ, Perry - W8AU, Ralph - K8HSQ, Don - W8DEF, Don - W8DEA, Gary - WC8W, Tony - KD8UXK, Igor - K8INN, Stephanie - KD8RDN, Charlie - KB8STV, Bill - KD8TKX, YL Shirley Treacle, harmonics Shirley and Alexandra, Barry - WA8WBL and Kathy - KC8IXE.
---
April Meeting Well Attended
(Apr 7, 2013) - - The April meeting was well attended and included several special presentations as well as a great program.
Club member Don Wade, W8DEA was recognized with a Certificate of Appreciation for his operating achievement during the club's 85th Anniversary Special Event Station. Don had been on assignment with FEMA during Super Storm Sandy and is finally back home for a well deserved rest.
In addition to Don, Callsign Plaques were issued to Jack Wade, N8LCS and Jerry LaRocca, KF8EB. This recognition is issued to club members who have maintained club membership for 25 years. Congratulations to both Jack and Jerry !
The club program for April was a presentation on the Civil Air Patrol presented by member Charlie Ssherger, KB8STV with assistance by fellow CAP Member Don Wade, W8DEA.
The program covered the basics of the Ohio Wing and included a very interesting powerpoint presentation that covered the history and mission of the CAP.
The club enjoyed the program and we appreciate Charlie and Don's efforts and their service.
Don Wade, W8DEA (R) receives his Certificate of Appreciation from President Mike Sciarini, WA8MKH.
Jack Wade, N8LCS (R) receives his 25 year callsign plaque
Jerry LaRocca, KF8EB (R) receives his 25 year callsign plaque.
CAP Captain Charlie Scherger, KB8STV presented a fine program on the Civil Air Patrol.
Thanks to Ralph Bugg, K8HSQ for the pictures!
---
A Bit of Repeater History !
The clubs 147.18 Repeater is the high profile wide area coverage repeater in Western Stark county and has been for quite some time. But it wasn't always so, in fact at one time it was not even a repeater at all ! Learn about the colorful history of the repeater thanks to an early issue of the clubs newsletter that I recently found.

Click here to read the full story.
---
Since 1927, the Massillon Amateur Radio Club has been a diverse radio hobbyist club that is currently over 80 members strong. Active within our community as well as an ARRL Special Service Club, we are actively involved in many facets of Amateur Radio, including Public Service, Membership, Field Day, Repeaters, Amateur Television (ATV), Skywarn plus many other interests.
You are welcome to join us at our monthly club meetings held on the first Friday of each month at 8:00 PM at the Massillon Senior Citizens Center, located at 39 Lincoln Way West, Massillon, Ohio 44647. We usually monitor the club's 147.18 repeater, give us a call and we'll guide you in !
MARC owns and operates repeaters in the 2 meter and 70 centimeter bands. Our annual Hamfest is held at the Massillon Boy's & Girls Club in Massillon. We have a large indoor hamfest area, as well as ample outdoor parking. The prizes are some of the best you'll find at any area hamfest and the bargains are many.
As a club member, not only will you have access to the autopatches on our 2m and 70 cm repeaters, but you will also receive a monthly subscription to our newsletter, Feedback. In each issue you will find published, the minutes of the previous month's meeting, informative articles, and interesting narratives by our club members.
The club owns an emergency response communications trailer that is stocked with radio equipment and back up batteries, as well as a generator. With little notice, MARC can have an emergency station on the air, ready to provide any help we can. Our club station, located at the Senior Center, contains an HF station, VHF and UHF gear, and a computer system. The station is open to any club member, during the hours that the center is open. The club also sponsors quarterly VE Exams quarterly at the Emergency Operations Center located at the Stark County Sheriff's office and during our annual Hamfest. Please check the link for times and specific dates.




Questions ?

Reach us at truss@sssnet.com


Number of Contacts with this site
Counter Courtesy of digits.com
This page was last updated on 03/09/14
Site best viewed in 800 x 600 Resolution
Using Microsoft Internet Explorer
2014 MARC
ARES®, Amateur Radio Emergency Service and the ARES logo are registered trademarks of the American Radio Relay League, Incorporated and are used by permission.